Investment Analyst Alex Warnaar reports that Nordic-based Boliden, a portfolio holding, brings a modern industrial mindset to mining and smelting.
Outside of the Swedish capital Stockholm lies Garpenburg, a mining area dating back to at least the Middle Ages. Over the centuries, ownership changed hands between the Swedish state and merchants, flooding and rockfall complicated operations, and fortunes swung between riches and bankruptcy. 
Fast forward hundreds of years and today Garpenburg is home to one of the world's most technically advanced deep underground mines - the mine's rock hoist takes just 60 seconds to raise a load of crushed orebody from one kilometre below ground. 
Garpenburg is one but not the only example of how base metals miner Boliden is introducing technology and automation to boost productivity in the centuries-old industry. At Arctic copper mine Aitik, Boliden uses high-throughput and automation to maintain a relatively low-cost competitive position despite being among the lowest grade operating copper orebodies globally.
The results have been remarkable given Boliden's natural endowment is below industry average, with neither the largest nor highest-grade orebodies. Compare the total shareholder return of mid and large capitalisation mineral resource companies over the past ten or fifteen years and you will find Boliden near the top of the list.  
Most importantly, over the coming cycle we expect Boliden will remain at the forefront of industry productivity and continue to offer attractive returns to shareholders.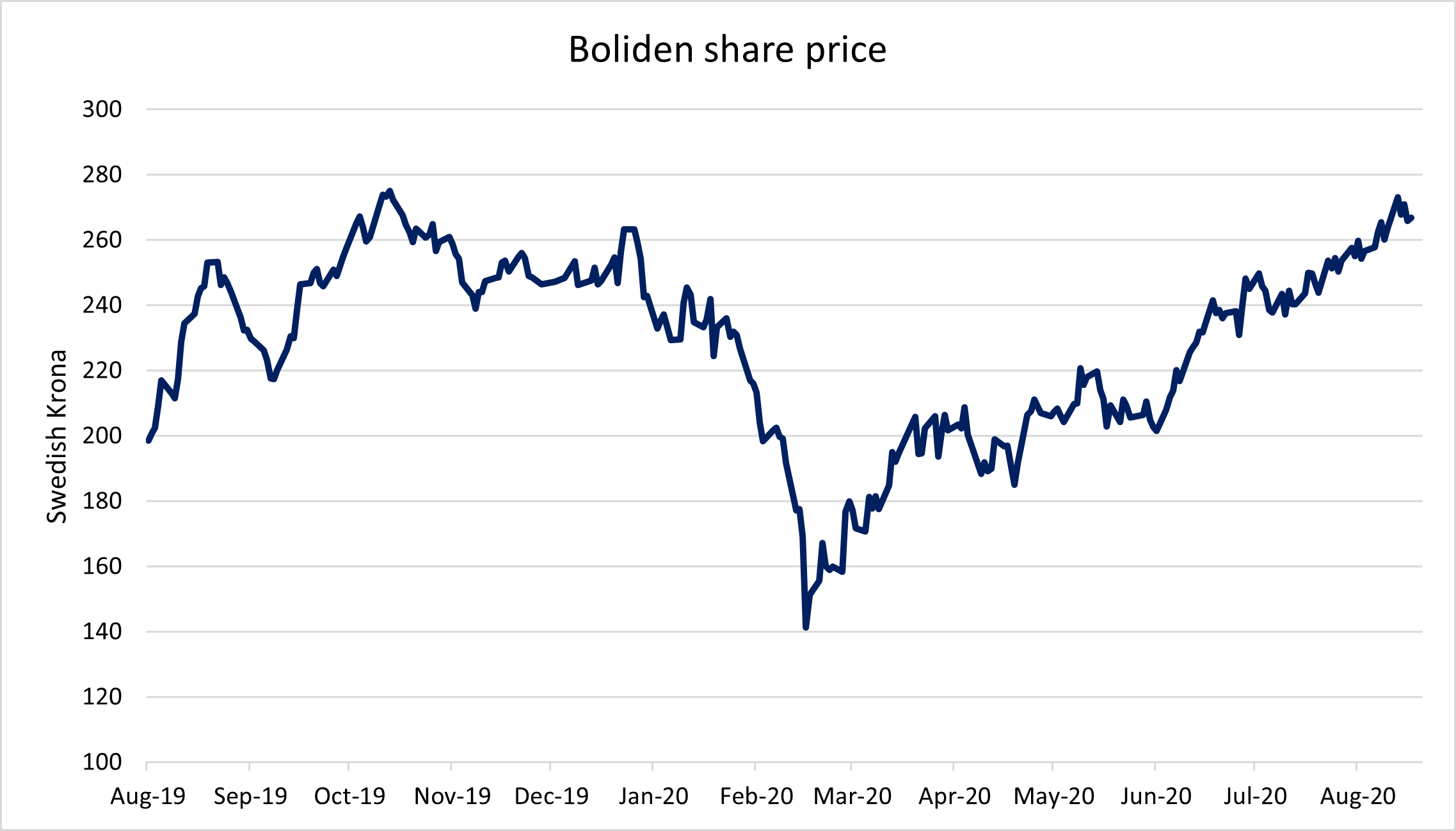 If anything, Boliden is better positioned than it was 10 or 15 years ago. Following successful incremental exploration, as of 2020 Boliden's primary mines Garpenburg and Aitik have significantly greater orebody reserves than in 2010 despite the decade of extraction. A handful of expansion and modernization projects are at various stages across both mining and smelting – three mine expansions are nearly complete, two smelter projects will be complete later this year, and a further few projects looks set for coming years. The changes should see their mines processing greater orebody volumes and their smelters capturing a greater portion of the contained mineral contents.
With some of the industry's strongest credentials, Environmental, Social & Governance (ESG) factors are also in Boliden's favour.. Boliden is electrifying the mining fleet where possible, has responsible water and waste management, its smelters are involved in recycling, and energy comes from clean sources.  Any tightening in environmental restrictions across the globe would see a structural improvement in Boliden's position relative to competitors.
Should commodity markets turn unfavourable, Boliden's well-balanced nature reduces the downside risk. Integrated mining and smelting reduces firm wide earnings volatility.  Metals exposure is approximately one-third to zinc, one-third to copper, and one-third to other metals including nickel, gold and silver. The primarily Swedish cost base and the Swedish Krona's behaviour naturally reduce earnings volatility. In times of weak commodity prices (measured in US Dollars), the Krona tends to weaken which raises the Krona-denominated commodity price.
Simple shareholder distribution and leverage policies, and non existent shareholder dilution, also act to reduce the downside risk. Trading at a price-to-earnings multiple of roughly 10 times (given spot foreign exchange and commodity prices), investors are giving the well managed firm relatively little credit.
Ultimately it is Boliden's returns on invested capital that will determine the rewards shareholders reap in coming years. During the recent decade Boliden nearly tripled its tangible equity base while maintaining an average through-the-cycle return of around 15%. 
No investment alone was transformational. Rather, a series of small and medium sized projects, with a bottom-of-the-cycle acquisition in 2016, incrementally boosted earnings. Boliden heads into the coming decade the same way as it left the last - with efficiency and incremental expansion top of mind. We expect shareholders will be well rewarded. 
 
The content reflects opinions as at the time of writing and may change. PM Capital may now or in the future deal in any security mentioned. It is not investment advice.