Global sports-betting giant developing new markets, consolidating existing ones.
Key points
Flutter's US division has reached an inflection point in its profitability, and is expected to transform the company's earnings profile.
A planned listing on a US exchange in 2024 will raise Flutter's profile in that market and expose it to a larger investor base.
Recent UK online-betting reforms are likely to favour industry incumbents and have low impact on overall revenue.
Expected Australian regulatory reforms are also expected to favour industry incumbents and increase barriers for new competitors.
By Kevin Bertoli, PM Capital
Introduction
In November 2022, PM Capital outlined its investment thesis for Flutter Entertainment plc in this insight. This article provides an update on key corporate and industry developments for Flutter this year. 
To recap, Flutter is the world's largest online sports-betting company. Capitalised at £24.3 billion1, the Dublin-based company has its primary listing on the London Stock Exchange (LSE: FLTR). 
Almost 80% of Flutter's revenue is earned in the US, UK and Ireland, and Australia.2 Flutter owns Sportsbet, the dominant player in the Australian online sports-betting market with 48% market share.3
Flutter makes about half its revenue from global sports betting through websites and Apps, followed by online gaming and online poker. Its key international brands include Betfair, Paddy Power, PokerStars, FanDuel (fantasy sports), Tombola (online bingo) and Sky Betting & Gaming.
In April 2022, PM Capital initiated a position in Flutter at around £82 a share for the PM Capital Global Companies Fund. Having reviewed UK betting stocks and invested in US casino companies, PM Capital understood the sports-betting market and recognised its potential.
At the time, we believed the market underestimated Flutter's growth potential in the US. Flutter's leverage to the evolving legalised US sports-betting market would potentially provide years of growth and transform the company.
Betting on football and other sports in the US was only legalised in 2018. Thirty-seven US states have since legalised a form of sports betting,4 Other US states, including some of the largest, are expected to follow, creating a long runway of growth for Flutter underpinned by regulatory reform.
The US sport-betting market is expected to be worth more than US$40 billion by 2040.5 Flutter has the clear number-one position in US online sports betting with a 47% market share in Q2 2023.6 Its market share in iGaming is 23%.7 Flutter's combined share in the US market has exceeded consensus expectations.
Despite this potential, Flutter traded at a 45% discount to PM Capital's sum-of-parts valuation when we initiated a position in April 2022. We thought the US FanDuel business alone constituted a large part of Flutter's market capitalisation.
In the April 2022 insight, we wrote: "PM Capital believes Flutter will grow faster in the US than investors expect – and that the company's US profitability will exceed market expectations in the next few years. That will be a catalyst for a re-rating of Flutter that could play out this decade."
Flutter rallied from £82 share in April 2022 to a 52-week high of £167 this year, and recently traded at £136, as Chart 1 below shows. The market's reappraisal of Flutter's US growth trajectory and regulatory developments in the UK and Australia this year have supported the share-price rally. 
Chart 1: Flutter Entertainment plc (LSE)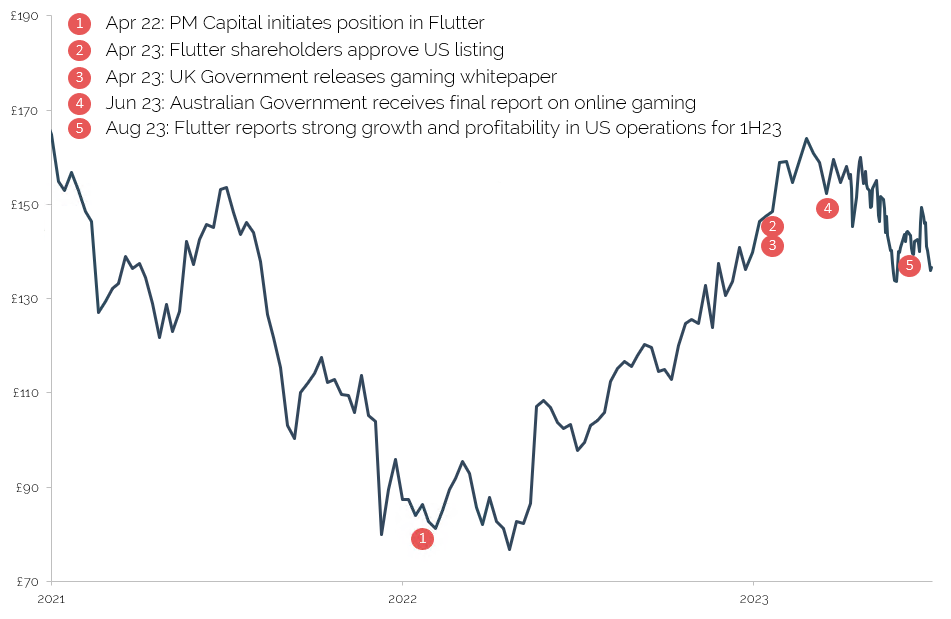 Source: Bloomberg
Four key developments in the past 12 months support PM Capital's investment thesis on Flutter and confirm its long-term growth prospects. They are:
1. Transformative change in the US
Flutter's US business is now profitable after five years of investment in player acquisition. The company's US player base is at a sufficient scale to more than offset the cost of future player acquisition – a development Flutter expects will 'enable significant future profit growth'.8
Flutter CEO Peter Jackson described Flutter's 1H23 performance as 'exceptional'. He said at the 1H23 result: "The first half of 2023 marks a pivotal moment for the Group, with our US business now at a profitability inflection point, helping transform the earnings profile of the Group and significantly enhance our financial flexibility."9
A US highlight was adjusted EBITDA of £79 million from FanDuel. The provider of online sports-based fantasy games is critical to Flutter's strategy. FanDuel provides a large base of fantasy-sports players (who compete to pick teams) – and a ready-made database to market its legalised sports-betting products. 
In 1H23, FanDuel acquired 2 million new players. That was up 18% on the same period a year earlier and a company record. In combination with Flutter Edge (the company's technology capability), FanDuel is acquiring more players, keeping them for longer and increasing market share. 
Scale is vital in sports betting. As FanDuel's scale advantage compounds, Flutter's US revenue rose 63% and its margins expanded in 1H 23.
Longer term, Flutter estimates its sales and marketing costs (as a percentage of revenue) could fall to around 12.5% in 2030, from 27% in 1H23 (assuming growth in the US addressable market meets Flutter's forecasts). Other operating costs would fall to around 10% in 2030, from 20% now, boosting Flutter's margins.
As FanDuel grows, Flutter has closed its loss-making FoxBet sports-betting platform. FoxBet lost £74 million in FY22 (EBITDA), contributing almost a third to Flutter's overall loss (£250 million) in the US division in FY22. Closing FoxBet will materially improve Flutter's US profitability.
Overall, Flutter reported adjusted EBITDA of £49 million in its US division in 1H23. The key is the growth trajectory. Revenue growth of 63% in the US in 1H23 compares to 13% revenue growth in the UK and Ireland, -1% revenue growth in Australia and 8% growth in international revenue. 
2. US listing 
At Flutter's Annual General Meeting in April 2023, shareholders overwhelmingly approved the potential listing of its stock on either the New York Stock Exchange or Nasdaq exchange. The listing is expected in the first quarter of 2024.
Flutter will remain domiciled and headquartered in Ireland, but have its primary listing on a US exchange. Flutter is expected to delist from Euronext Dublin (Ireland's main stock exchange) to comply with US listing requirements. 
A US listing has several potential benefits for Flutter. First, it raises Flutter's investment profile in the US at a time of significant growth in its US operations. FanDuel reportedly accepted 50,000 bets per minute during a record Super Bowl this year.10 The potential is translating growing awareness and use of Flutter products in the US to a larger audience of US investors. 
Second, a US listing would lead to inclusion in several key sharemarket indices for Flutter, given its size. Index inclusion is a key reason companies choose to list on exchanges, as part of their investor-relations strategy. Index funds have to own shares in companies included in the index that the fund seeks to replicate. Buying from index funds – and active funds that benchmark their performance against an index – can increase share liquidity in index constituents over time.
Third, a US listing could help Flutter if it decides to spin off its FanDuel Group through an Initial Public Offering (IPO). Markets have speculated that Flutter could realise more value for FanDuel through a spin-off, but that seems unlikely for now as Flutter pursues its own US listing. If a FanDuel IPO does occur, Flutter would probably only sell a small shareholding in its US division. Either way, FanDuel is arguably worth more than Flutter's current valuation implies.
3. UK regulatory reform
In April 2023, the UK Government released its gambling Whitepaper.11 A key proposal is a stake limit of between £2 and £15 per spin for online slots (poker machines), to limit the risks of harmful play. 
Flutter was prepared for that change. In the past two years, it has introduced voluntary measures, such as a £10 stake limit for its online slot games and monthly net deposit limits for all customers aged under 25. 
The UK Government also proposed the introduction of a statutory gaming levy. This is expected to be set at 1% of gross gambling revenue and reviewed every two years. Flutter voluntarily provides 1% of its UK revenue to UK charities that address gambling harm, so is well prepared to transition to a statutory levy.
The Whitepaper also proposed vulnerability checks on accounts where daily losses exceed £1,000 and that online gaming companies target online advertising away from children and other vulnerable people. Flutter has played a leading role in developing an industry-wide initiative to reduce the amount of advertising that targets people under 25 in the UK through social media.
On balance, the proposed changes should have minimal effect on Flutter and Entain, its key competitor in the UK. Both companies have consulted the regulator on the proposals and proactively positioned for expected change, so that the UK online-gaming industry can continue to self-regulate. 
Flutter estimates the regulatory change will have an impact of £50-100 million on its UK revenue in FY24. That equates to less than 1% of its consolidated revenue, based on consensus forecasts. 
PM Capital believes the proposed UK online-gaming reforms will benefit industry incumbents, such as Flutter, by making it harder for new entrants to grow their UK market share. Reduced slot limits, advertising restrictions and the 1% levy are headwinds for emerging gaming competitors.
Although a mature gaming market, the UK and Ireland still accounted for 28% of Flutter's revenue in FY22.12 The UK reforms suggest Flutter can maintain its position in that market while benefiting from much stronger growth in the US.
4. Australian regulatory reform
In June 2023, the Australian Government received the final report on online gambling. Key proposed reforms include the appointment of a Federal minister to oversee online gaming reforms and the introduction of a national regulator and online-gaming ombudsman to oversee the industry.
Similar to the UK, a levy will be introduced to fund initiatives that address gaming harm and provide education (the rate is not currently known). An advertising ban on online gaming will be phased in over three years and there will be standardised guidelines for consumer protection. A legislative review of the sector will be conducted every two years, creating a cycle of measured change. 
The key reform is the phased advertising ban. International experience shows advertising bans favour gaming incumbents that already have a large customer base, by making it harder for new entrants to build market share through digital marketing. Also, lower advertising costs boost gaming profit margins. The flipside of lower advertising is slower product adoption and industry growth. 
Flutter's Australian operation accounted for 16% of its revenue in FY22.13 Like the UK, Australia is a mature market for Flutter. In 1H23, the Australian division's revenue was -1% due to higher costs after COVID-19 and a challenging tax environment for online gaming. In its outlook guidance for 2H23, Flutter said its Australian division would experience 'softer-than-expected market conditions'. 
On balance, proposed regulatory reforms suggest Flutter will maintain its dominance in the Australian online gaming market. It's too soon to assess the financial impact of the Australian reforms on Flutter's revenue. But they are likely to be small in the scheme of its overall revenue, as has been the case in the UK.
Conclusion
Corporate and industry developments for Flutter this year confirm PM Capital's view. Flutter continues to grow faster in the US than the market expects, while proposed regulatory reforms in the UK and Australia should support position in those mature gaming markets (with limited financial impact). A planned US listing in 2024 should attract new investors for Flutter and unlock more value over time.
Longer term, the scale of Flutter's US opportunity is compelling, given it has a dominant market position in the giant, fast-growing US online gaming market. The company earned 34% of its revenue from the US in FY2214, despite that market being only four years into legalised betting and with several large US states still to implement a form of legalised betting.
Flutter reinforces the benefits of PM Capital's investment process. We look to buy quality companies when they trade at bottom-quartile valuations and capitalise on market volatility when sentiment drives prices too low. In early 2022, Flutter and other online gaming stocks had been affected by the sell-off in Total Addressable Market (TAM) technology stocks. Flutter fell too far.
Our goal is to sell companies at top-quartile valuations, which often requires holding them through a full industry cycle (7-10 years) and benefiting as their earnings grow. In our view, Flutter has years of growth ahead in the US.
Flutter's current valuation is not as attractive as it was when we bought the stock in April. At £136, it trades on a forward Price-Earnings (P/E) multiple of about 23 times.  We believe the market is still underestimating the profit margin that Flutter can achieve from its US business as it develops more scale (the forecast US margin is about half that achieved in Flutter's UK and Australian business).
If our view is correct, higher margins will underpin higher-than-expected earnings growth for Flutter in the US this decade. There will be inevitable pullbacks and sell-offs along the way, but Flutter looks like a good bet this decade. 
About the author
Kevin Bertoli is the co-Portfolio Manager of the PM Capital Global Companies Fund and PM Capital Australian Companies Fund. PM Capital is a leading asset manager in Australian and global equities, and interest rate securities.
More PM Capital investment insights are available here. 
---
Notes and references
1At 26 September 2023.
2Flutter (2022). 'Annual Report and Accounts 2022'. 
3Flutter, FY22 Financial Results. 
4Forbes, (2023), "Where is Sports Betting Legal: A Guide to all 50 States'. 15 June 2023
5Flutter (2023), '2023 Interim Results.' 
6ibid
7ibid
8ibid
9ibid
10CNBC "FanDuel parent Flutter considers listing on US exchanges after record Super Bowl'. 14 February 2023.
11UK Government (2023), 'High Stakes: Gambling reform for the digital age'. 27 April 2023
12Flutter (2022). 'Annual Report and Accounts 2022'. 
13ibid
14ibid
15Source: Morningstar. At 26 September 2023.
---
This Insight is issued by PM Capital Limited ABN 69 083 644 731 AFSL 230222 as responsible entity for the PM Capital Global Companies Fund (ARSN 092 434 618), the "Fund". It contains summary information only to provide an insight into how we make our investment decisions. This information does not constitute advice or a recommendation, and is subject to change without notice. It does not take into account the objectives, financial situation or needs of any investor which should be considered before investing. Investors should consider the Target Market Determinations and the current Product Disclosure Statement (which are available from us), and obtain their own financial advice, prior to making an investment. The PDS explains how the Fund's Net Asset Value are calculated. Past performance is not a reliable guide to future performance and the capital and income of any investment may go down as well as up.