In this new Ratings Review video, Zenith Investment Partners' Andrew Yap discusses the approach and demonstrated long term performance of the PM Capital Enhanced Yield Fund with Portfolio Manager Jarod Dawson.
"Underpinning Zenith's conviction is our high regard for its long-standing portfolio manager that has the skills and experience to successfully manage the fund...and their demonstrated track record of successfully navigating the fund through a range of market conditions..."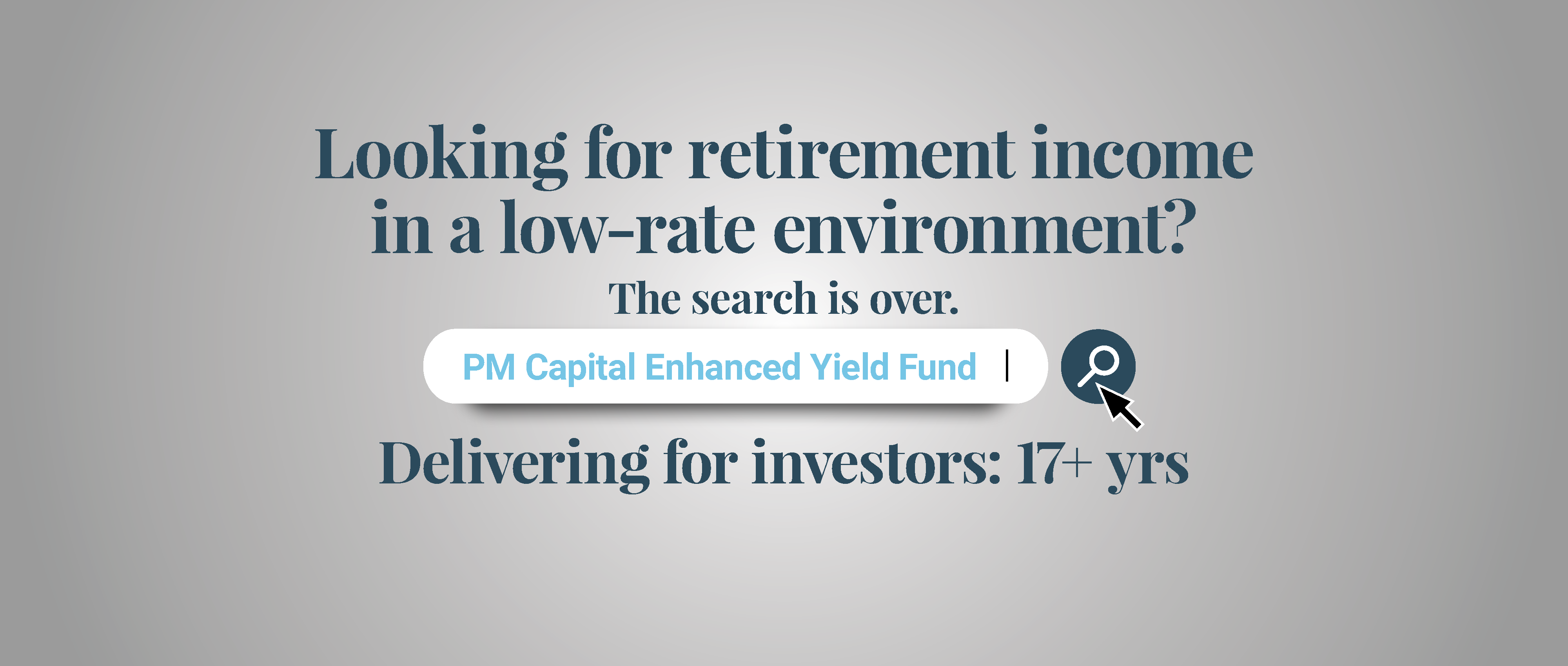 More on the Enhanced Yield Fund
IMPORTANT INFORMATION
This communication is issued by PM Capital Limited (ABN 69 083 644 731 AFSL No. 230222) as responsible entity for the PM Capital Enhanced Yield Fund (ARSN 099 581 558). It does not constitute advice of any kind, and is not an offer capable of acceptance in any jurisdiction. The opinions (which constitute our judgement at the time of issue) and the information herein is subject to change without notice. The communication does not take into account the objectives, financial situation or needs of any investor, and investors should consider a copy of the current Product Disclosure Statement which available from us, and seek their own financial advice prior to investing.
While the information contained in this communication has been prepared with all reasonable care, PM Capital accepts no responsibility or liability for any errors or omissions or misstatements however caused. It contains summary information only. You should not rely on this information. Except insofar as liability under any statute cannot be excluded, PM Capital and its directors, employees and consultants do not accept any liability (whether arising in contract, in tort or negligence or otherwise) for any error or omission in this communication or for any resulting loss or damage (whether direct, indirect, consequential or otherwise) suffered by the recipient of this communication or any other person. *Past performance is not indicative of future performance. The objective is expressed after the deduction of fees and before taxation. The objective is not intended to be a forecast, and is only an indication of what the investment strategy aims to achieve over the medium to long term. While we aim to achieve the objective, the objective and returns may not be achieved and are not guaranteed. Returns are calculated from exit price to exit price assuming the reinvestment of distributions for the period as stated and represent the combined income and capital return. The Index is RBA Cash Rate (see www.rba.gov.au for further information). The Enhanced Yield Fund (on behalf of each class, being APIR Code: PMC0103AU, inception date 1st Mar 2002) and APIR Code: PMC4700AU (Class B, inception date 31 May 2017) has been admitted to the ASX mFund Settlement Service operated by the ASX with the mFund Codes: PML01 and PML02 (Class B). See www.asx.com.au/mfund for further information.
The Zenith Investment Partners ("Zenith") Australian Financial Services License No. 226872 rating (assigned October 2018) referred to in this document is limited to "General Advice" (s766B Corporations Act 2001) for Wholesale clients only. This advice has been prepared without taking into account the objectives, financial situation or needs of any individual and is subject to change at any time without prior notice. It is not a specific recommendation to purchase, sell or hold the relevant product(s). Investors should seek independent financial advice before making an investment decision and should consider the appropriateness of this advice in light of their own objectives, financial situation and needs. Investors should obtain a copy of, and consider the PDS or offer document before making any decision and refer to the full Zenith Product Assessment available on the Zenith website. Past performance is not an indication of future performance. Zenith usually charges the product issuer, fund manager or related party to conduct Product Assessments. Full details regarding Zenith's methodology, ratings definitions and regulatory compliance are available on our Product Assessments and at www.zenithpartners.com.au .